Now relegated to
Blogblivion
...
Sunday, September 10, 2006
The Dustbin of Rational Response
Here is why I don't expect us to be flying anywhere any time soon. I mean, besides the cost. Which isn't too much different than that of driving even the farthest we'd want to go, except in terms of time.
Our weakness is that the tendency to slide into this sort of nonsense was already there. "The terrorists have already won" reaction really is saying "the terrorists exploited a tendency that was there, ready to come out under the right provocation, or perhaps eventually under no provocation at all."
I greet tomorrow's anniversary with my horror at the carnage, destruction, and savage evil of it all having morphed into horror at the lost opportunity of it all. Unless you're talking opportunity presented to those who would enfeeble us because power feels good and a cowed populace makes things so much easier.
If you see a whirling dust eddy in the right location, it might just be the troubled spinning of graveless heroes and victims.

Saturday, September 09, 2006
House and Standoff First Impressions *SPOILERS*
To be honest, we'd gotten a little bored with House, with it falling into something of a good but not compelling status. However, it was mandatory to watch the first episode Tuesday, to see the outcome of the freaky season finale.
It was a better segue than I'd expected, flashing forward a couple months, past the surgery and to the end of the convalescence period instigated by the shooting. As rumored to be needed because Hugh Laurie was in pain from all the fake limping, the side-effect of the surgery was elimination of the character's leg pain.
This eliminated his reason for being cross, and his need for a steady stream of vicodin. Yet people aren't sure what to do with a nice Greg House, and he ends up questioning his own competence, made worse by his boss cruelly vetoing a hunch. From him a hunch is as good as someone else's factually deduced certainty. I diagnose computers by hunch as often as not, so I can relate.
The next episode ought to be a great followup, given that his boss second guessed herself, applied his recommendation to the patient as he left, naturally with miraculous results, and insisted on keeping it secret on the theory that House needs to know he can be wrong sometimes. It was wrong, unexpected, and darn well should blow up in her face. So now episode two is must-see, and we're on track to keep watching after all. Despite the insane decision to switch the show from 9:00 to 8:00, mandating that we tape it.
At least they put something good in that 9:00 slot. The new show, Standoff, looked so amusing and well cast, we decided to watch it too, hitting record at the last minute.
We enjoyed it and will keep trying to catch it. The absolute best touch, which folks who never saw the original MASH movie might not appreciate, was when a cell phone rang with the MASH theme. A young guy had taken hostage everyone in a coffee shop and had taken away their cell phones. He was posing as an Islamic suicide bomber to spite his parents. So, yeah, "suicide is painless..." Heh. We both burst out laughing. The resolution of the situation was impressive, too. Well written stuff.
Oh, and next time I do a Google-baiting nude, naked, topless, without clothes, photos, free, fake, whatever keywords post with celebrity names, I shall have to make sure I add Rosemarie DeWitt and Raquel Alessi to the list. Oh wait, I kind of just did…
This would be some special content visible after this post, but only on the main page.

Sadie Good, Briz Bad
I took Sadie with me yesterday, to get her desire to "go" out of her system. I needed to look at a computer with an apparent malware affliction, pick up a check, mess with servers a little, and I wanted to do a trial install of Outlook 2003 on one workstation that could be messed up without mattering.
It turned out the malware affliction was a variant of this lovely thing. I had a certain amount of fun, because I located the files that contained the user's recent web browser keystrokes, including his webmail URL, name and password, and all the most recent actions, including what I had done in the registry and such since sitting down. I'd heard of viruses or spyware designed to log keystrokes and transmit the info, but I'd never encountered one or seen direct evidence that's what it was.
When I hit the registry, the most recently modified key was now blank "run once" under HKCU (hkey_current_user), so obviously something had been planted there and had a chance to deploy and clear on reboot. The run key under HKLM (hkey_local_machine) had five items, only one of them legit. One of them was winlogin. It and one other put themselves back as soon as they were cleared.
The file I recognized as not right in processes was ieredir.exe, which I was able to get rid of. Searching on it later told me this was Briz-F or a variant and allowed me to learn more.
The symptoms he was having were that Firefox would not run at all. Double-click and it goes away instantly. Internet Explorer would run but not work. Other things started hanging and not working, including eventually Word.
Fishing through files on the system, I found it was apparently spoofing explorer.exe with its own version, which would explain a lot. Ugly.
He went home. I left it for today, filled with joy at having that much extra to do this weekend. A cleanup of that sort could take hours. Afterward I looked at proxy server logs and found since about 10:00 AM the machine had periodically talked to a suspicious sounding .info URL and a URL ending in .org that otherwise sounded like it could be a credit union site. The latter appears to make you think that it is doing a windows update.
So, remember I had Sadie with me? She is so good! It's as if she has a built-in sense of decorum. The whole time I worked on that computer, she hung out in that office quietly, chewing on a big pretzel the lawyer gave her and waiting patiently for me. Periodically one of her admiring public would come to the door to say hi to her.
Then we went over to the server room, which is more of a closet. She sits in there with me and touches nothing she shouldn't. This in a place where she could easily reach out and rip the spaghetti of little phone wires from their contacts. There's a toolbox she uses as a chair, and someone left a doorknob kit on the floor next to the door, so she plays with the pieces of that.
Then she got a big purple lollipop from the receptionist on our way down to my office, and for the little while we were there she ate the lollipop and played with her computer and a couple of small toys that live there.
She was sooooo good! I know she is generally, but it still amazes me. I still couldn't take her for a whole day of intense work in the client's offices, but it's nice that I can take her for a couple hours or more and not have to worry much.

Sisters
Here's a more proper photo of Valerie standing in the crib, exhibiting her customary disposition…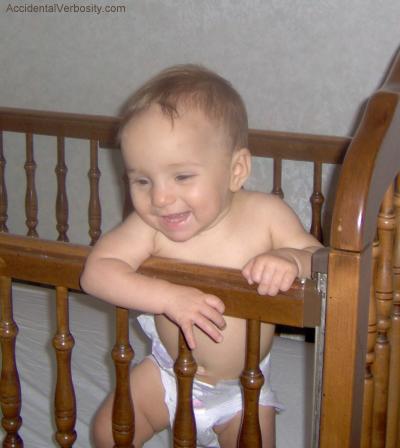 And one of the two of them in their room. Sadie is wearing her cutely garish dress that is her Favorite Outfit Ever. She had caught sight of it in the clean laundry, insisted on wearing it and using the white part as a food catcher per usual, and then insisted on sleeping in it too.
To the degree that Sadie is… a bit odd… Valerie has been possibly the best thing ever to happen to her.

Sadie Loves New Clothes
Sadie models her new outfit and demonstrates that she has mastered "contemptuous." That's a denim overall dress, with a red T-shirt you can't see underneath, and a red Pooh windbreaker she wouldn't take off, or even allow to be partially unzipped without freaking. She selected matching red socks. To go to the playground she wore new shoes with heavy duty rubber treads that made climbing the slides easier. We get the best pass-along clothes!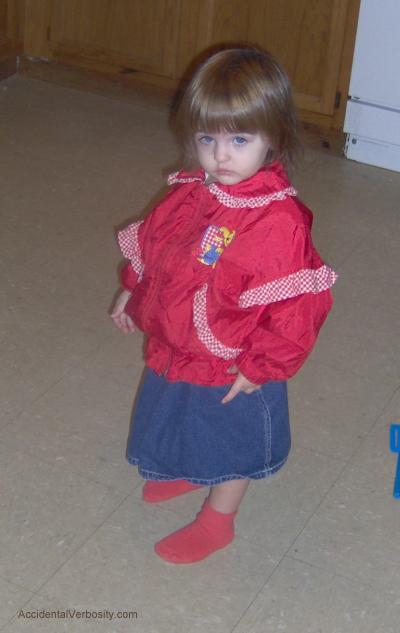 Art Valerie
This is the result of my playing around just for giggles with a picture of Valerie that came out unusably dark. As in the first thing I had to do was brighten it by 45%. Ended up with something more like art than a photograph.
Friday, September 08, 2006
Happy Birthday
To blogger Tim at My Money Forest. Ah, to be a mere 26 again…
Speaking of being younger, seeing the abbreviation MMF reminds me of the days when we'd all go to Applebee's periodically after work, or have going away parties there for departing colleagues. In the early days, the usual bartender was a young woman named Jody. I was introduced to a drink that was a specialty of hers, best ordered when she was there because nobody else could make it half as well. It was called a Mongolian Motherfucker, or MMF for short. It amused the waitresses sometimes to make me ask for it by its full name, rather than its initials. It was delicious, but very strong, based on Midori, with whatever the blue stuff is called, a couple other alcohols, and I think a bit of sour mix as the only thing that wasn't alcohol in it. My alternate drink of choice at the time was their amazing frozen mudslides, better than I have had anywhere else, and probably about 1500 calories each. Somewhere among my non-digital pictures I have one of our bartender buddy sitting on the lap of one of my colleagues. Those were the days.
Call for Topical Entries for the 9/11 Edition of CotC
Joshua Sharf, host of the upcoming 9/11 edition of Carnival of the Capitalists, is particularly interested in entries connected to the obvious anniversary, from the CotC's business and economics perspective.
If you are entering anyway, you might keep that in mind. If you weren't planning to enter but have something that fits, send it on in. Even if you don't blog yourself, but see an entry that lends itself to inclusion, go ahead and submit it.
Donate to Dean or Buy His Book
Dean Esmay is unemployed and as a result is having only his second pledge drive in all his years of superlative blogging. You might consider helping out.
Alternatively or additionally, you might consider purchasing a copy of the newly released novel by Dean Esmay and John Eddy, Methuselah's Daughter, which I am assured remains available as a signed, limited edition hardcover first printing. I was lucky enough to be one of those getting advance installments to review as they were completed. It's been edited and modified since, but I liked what I saw and look forward to reading it all in one not-on-screen pass. If the special hardcover is too costly for you, despite its special nature, the paperback should be available Real Soon Now through typical bookseller channels.
The blog of Methuselah's Daughter.
An excerpt
Another excerpt
Testemonials
Happy Birthday
To blogger Boudicca.
Happy Birthday
To blogger Rocket Jones.
Thursday, September 07, 2006
Because it will be Friday in 45 minutes.
You Are 48% Hypochondriac


You are a bit of a hypochondriac, but nothing too extreme (yet).

You watch your health a little more than you should - even when there's nothing to worry about.

You Are a Life Blogger!


Your blog is the story of your life - a living diary.

If it happens, you blog it. And make it as entertaining as possible.

What Your Bathroom Habits Say About You


You are very independent and self-centered. You don't solve other people's problems - and you don't expect them to solve yours.


Your idea of fashion is jeans and a t-shirt. Clean, if you're lucky.


You are a very outgoing person. You are true to yourself, and you never hold back.


In relationships, you are practical and realistic. You have a romantic side, but you only let it out when it's appropriate.

You Should Rule Saturn


Saturn is a mysterious planet that can rarely be seen with the naked eye.


You are perfect to rule Saturn because like its rings, you don't always follow the rules of nature.

And like Saturn, to really be able to understand you, someone delve beyond your appearance.


You are not an easy person to befriend. However, once you enter a friendship, you'll be a friend for life.

You think slowly but deeply. You only gain great understanding after a situation has past.

This is actually about right these days, I think.
Though I wish there were an option for "let's forget about the government and go colonize our own freaking planet and somehow forget to have one there." Not a big government fan, but if folks insist on having one I'd like it to do something marginally useful. Which is, I suppose, the same thing, but I like to pretend there's a distinction.
You Are a Liberal Republican


When you tell people that you're Republican, they rarely believe you.

That's because you're socially liberal - likely pro-choice and pro-gay rights.

You're also not so afraid of big goverment, as long as it benefits people and not politicians.

You are the most likely of any Republican type to swing over to the Democrat side sometimes.

Going Bedouin
It's funny to see Anita point out this concept dubbed Going Bedouin, as it is the exact concept I came up with for my new business still in the rough planning stages. It's also funny I should see this right after posting on the related topic of working at home and being torn between whether and how much to maintain outside office space.
I lean toward modest shared spaces as described in the "recipe" instructions, for the same reasons, as well as to provide certain central resources. It just needn't be large, fancy or expensive.
Home Office Tips?
I noticed in the latest CotC that Dane Carlson had a post titled 6 Tips for Working at Home With Children. Obviously this is of great interest to me, since I partially work at home, and not just blogging, to the extent that involves money.
Item one was a consideration in selecting this apartment. It's also used for the bulk of the book shelves and some storage, and it's not always off-limits, but I do have an office room with a door that can be closed at need. I should probably do so more than I do, but most of my work at home is simply being available and able to respond to e-mails.
All too many of those go something like:
Them: "Help! My computer barfed!"
Me: "What were you doing when it barfed? What did the barf look like? Did you try anything to clean the barf up yourself, or to prevent it from happening again? Isn't this like the barf that rebooting solves? Let me know and we'll go from there."
Several days go by…
Them: "Hey, my computer's still barfy. Please fix."
Me: "But you gave me no information to even know what to look at."
Them: "I don't have time to know anything about how a car computer works! I just need it to drive me to do my work! You're confusing me."
Tip number two is superlative. Merely having music is a big help. In fact, I have long been fascinated by the way music acts on my brain to make me focus. It is almost like flipping a switch.
Sadly, my headphones died months ago and I have yet to replace them. I miss them most late at night if I am up and at the computer. I already sometimes avoided using them so I could easily be called into another room to help with the kids. But then, that's not hard core working at home when I can be that available.
One of these days I'll get a new headset. It really is useful, and probably worth the money for a better one than I had. If playing music is like flipping a switch, doing it with a headset is like putting my brain into turbo mode.
The third tip is tougher, because it all depends. I am on call theoretically 24/7, and in reality 10/5, with certain stuff I can't do at home done best on weekends and in evenings. When I am working hardcore at home, it's usually an all-hours, nonstop as I can handle project, so there goes having a normal schedule. When it's lower grade, it's such a work/home mix as to moot the "work hours" thing. If I were working more regularly and busily from home, this would no doubt be useful.
Meanwhile, we've been trying to deal with the conflict between my combined need and desire to do certain out of the house stuff at all hours, and the need for me to be home by 6:00 PM at the latest as much as possible. I'm not sure how other people do it, as it would be ideal for me to be home by 5:00 each day so the kids don't melt down before supper is ready.
When she's not charmed and amused by my artist-like habits, Deb is driven crazy by them. Can't say as I blame her, even as it's tough to be any other way.
The fourth tip, well, never really been an issue. Oddly enough, Sadie seems to have a sense that she should be quiet or go off by herself if the phone rings for me. The way my office is configured, sound from the rest of the house is baffled even if the door is open, as long as they aren't actually in the office. Which Sadie also seems to have a sense of minimal invasiveness about. She's funny like that.
As for number 5, good idea, except if I am home it's more likely to be something wolfed down at the desk.
Ah, and number 6… heh. I never needed to ask that. We routinely e-mail each other within the house. And if I am doing intense, close the door work, all the more so. It's just plain convenient.
Other tips? Good question. I think you have to be willing to be a little flexible, which makes it easier for everyone to accept it when you really need to be left alone. I'd say even with door-open work, everyone needs to be aware when to let you concentrate on the task you are enaged in. For me it's writing and other creative or technical things that can involve concentration, inspiration, or being "in the zone." Sometimes I can write an e-mail response to a client having a problem and hold a conversation at the same time. Sometimes the distraction makes me lose entirely what I was saying and changes the nature of the response. Sometimes "flow" matters terribly. Sometimes it doesn't so much.
I go back and forth on the whole home office thing. Given the nature of my work, I will always need one to some degree. The discussion has been whether to go exclusively home, or go more completely home but with some office space somewhere, but not necessarily where and how much it is now.
There are days I'm ready to say "I just can't do this!" and make sure I always have an office out of the house and spend more time at it than I do now. There are other days when I can't believe I'm still spending any money for a "real" office, no matter how nice it is to have an air conditioned place to take us all on the hottest days.
So. What are your tips for working at home, with or without kids?
Happy Birthday
To blogger Starling David Hunter, who hosted the most recent CotC edition.
Wednesday, September 06, 2006
Happy Birthday
To former blogger Leanne of The Cheese Stands Alone.
Hey Look, It's A Post!
For lack of anything better and more time-consuming to post at the moment, Jeff posted not-necessarily-stupid-at-all questions about food and reminded me that I wanted to point out this Cook's Thesaurus site. It's pretty cool and edumacational.
Now off to play with servers… Maybe I'll post again later about pork chops, working at home, House, Standoff, or whatever.

Finally, a use for my English degree!
You see, Geoffrey Chaucer Hath a Blog. ROFL! Check out the review of Snakes on a Plane: Serpentes on a Shippe! Complete with spoylerez warning. LOL!
Via Lynn S, who didn't waste her time learning to read that stuff the way I did.

Monday, September 04, 2006
This is what I mean when I say that Valerie burns it all off so it isn't a wonder she's tiny.
She's 6 and not-quite-a-half months old. She's been pulling up for close to a month, IIRC, and has really gotten into it the last week or so. Now she stands confidently with only one hand on the coffee table. We've suspected her of cruising a bit, though we haven't caught her at it. But yesterday? She has one of those push-toys, you know, wheeled and with a handle at shoulder-height or so. She was pushing it. Push, step, step, push, step step. And today Jay caught her doing the same thing with her baby gym, pushing it across the hardwood and walking behind it.
Wild.
Saturday, September 02, 2006
Not Anymore!
Well, unless it's "planet or planet-like object." Heh.
You Are From Pluto


You are a dark, mysterious soul, full of magic and the secrets of the universe.

You can get the scoop on anything, but you keep your own secrets locked in your heart.

You love change and you use it to your advantage, whether by choice or chance.

You don't like to compromise, to the point of being self-destructive with your stubborness.

Live life with love, and your deep powers will open the world to you.

Busy
This will be a busy weekend, attempting to migrate a network while nobody is using it. You may not see much of me here. Then again, if I am in hurry up and wait mode, or sitting at the computer with a meal, or need to vent, it's possible I might post, generally busy or not. Just don't expect it. Not that anyone is reading anyway, on a holiday weekend.
Mmmm… Pizza
Last night was pizza night; our normal Papa Ginos order of a rustic meat combo and large traditional cheese, with the AAA discount. Val got her first chance to gnaw on pizza bones, and her first taste of pizza cheese, which was also her first taste of cheese, which we decided after her checkup it was time for her to start trying. She needs the fat and calories even more than Sadie did.
Sadie hadn't eaten to speak of all day, and kept refusing food. She'd woken up too early and had a cranky day. We gave her a primo piece of the meat combo, which she picks much of the meat off of, but she wasn't that excited by it. My theory was that she wanted a slice of plain pizza, so I got her one.
To our amazement, for the first time ever she picked up the slice, held it like a big person and started taking bites point first. This called for the camera!
The camera all too often disappoints me by getting an awesome shot but making it blurry. I'll take six pictures of one of them, get one that has a smile or is otherwise superlative, and the camera will have failed me just on that one. Focusing is automated, which also means it takes the picture when it's good and ready so I miss an outrageous number of "snap it now before the moment has passed" shots. Sometimes video recording refuses to turn on at all, no matter how many times I press the button or how long I hold it down.
The first shot of Sadie with the pizza caught an uncharacteristic smile and was a great picture, but so blurry I wouldn't ordinarily post it, and wouldn't make a print out of it. I was so mad I decided to experiment with touching it up. I use Paint Shop Pro 5.
Here's the fuzzy original (which actually isn't as bad as a lot of the ruined ones I get):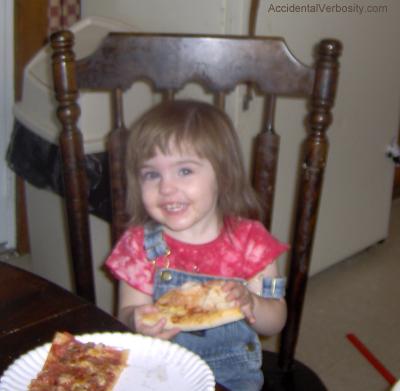 Here's the result of surprisingly little modification: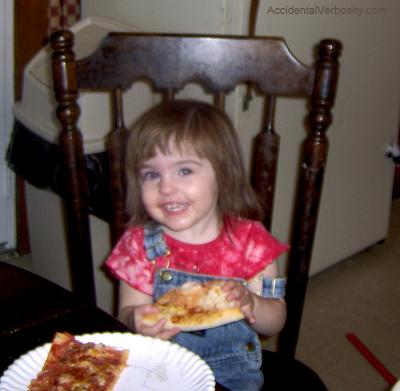 Click the pictures above for larger instances in a new window.
Still not perfect, but better. I was intrigued to see what I could do. Oh, she devoured that entire slice!
Friday, September 01, 2006
"I Don't Know"
That's Sadie's latest sentence, used separately to me and Deb at different times today.
Yup, she can't talk. Just like the Pope isn't Catholic.
Tall Girl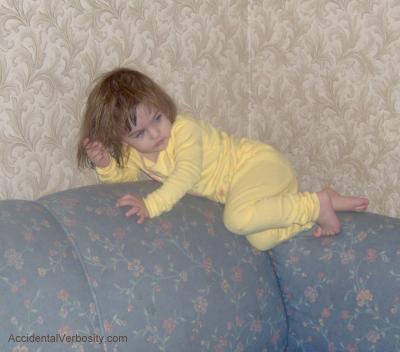 These are her new pajamas, the color she selected, size 3T. Which turned out to be a closer fit than expected, though there is room to grow, and they stretch enough to avoid the usual problem of pants falling because she's thinner than the clothing makers assume. She'll get a couple more pairs, now that we know they fit and are comfy.
The second shot is her favorite perch, on the back of the couch. Though she also likes being on the couch itself once she has removed the cushions. Very strange.

Thursday, August 31, 2006
Tiny Girl
So Val is still on with her attempts to slide right off the weight chart. She's under the 10th percentile now, at 13 pounds 10 oz this morning. You should see what she eats, though! In an average day she nurses 6 or 7 times, including a couple of times overnight (and my supply is fine...I'd tell you why I'm so sure but that's TMI, I think), eats between 2 and four jars of baby food, a couple of big servings of oatmeal and/or barley cereal (with the baby food), a share of whatever we're having for supper, and sometimes a snack.
She's also the squirmiest baby ever. She's also pulling up on everything everywhere, can crawl almost as fast as I normally walk, and changing her diaper has become an affair that involves me sitting on the floor with her where I can pin her arms with my legs. Otherwise it's simply impossible. And with that skill she deftly defeated the (overly timid, young, new) nurse today, who measured her at 25 and a quarter inches. I know, because I'm the poor sap who has to dress her, that she's grown more than a half inch in the last two months. My own measurement against her measurements once she left the room and Val calmed a little and let me stretch her out properly was about an inch longer. Which would put her right back at the sixtieth percentile, where I expected her to be (per usual) rather than the thirtieth. Ah, well.
At least her head--being easier to measure--looked like it grew appropriately!
Our doctor, being possessed of a sneaky sense of humor, ambushed me with a blood pressure check while I was there, too. And it stank, as usual, so more meds, as is becoming the pattern. I'm starting to suspect that not having slept a full night in more than six months is what's keeping it high. God knows we walk enough, lol! And he doesn't think there's anything particularly wrong with me that a million bucks and a beach vacation wouldn't cure (my words, but I'm pretty sure that's what he meant, lol). So we soldier on. Sleepily.
Six Again
Very funny! My mind was going a different direction as they got in bed at the end of the day…

Blogging… Magazine?
I received an e-mail invitation to this moments a couple hours ago, and my first thought was to wonder if the people behind it actually knew anything about blogging, or if is was another "Blog Carnival" scenario.
That is, not really understanding blogging, or things like carnivals, but seeing an apparent way to piggyback on blogging for some easy cash. Or like already famed people supplementing their empires with instant-audience blogs, then holding themselves forth as blogging experts, even if they require an editor to be readable.
Just the very idea, too… a magazine for blogging? And podcasting. Which could mean it's a magazine for podcasting that gives a wink and a nod to podcasting's blog roots.
Anyway, seeing the lack of detail on the subscription page, I looked at the domain of the sender's e-mail and had my thoughts reinforced, though at least they appear professional. Well, unless you click on the podcasting link and find they are so new to the topic that you get an "Index of /" page. Heh.
I might sign up regardless, as I am intrigued at the same time I am skeptical. Free is good, after all. Getting in a directory might mean a hit or two extra here and there.
I just couldn't help those first thoughts, and can't help that amused skepticism.
One. Yeah.
As Deb mentioned, she took the kids for a walk and to the playground yesterday.
When she was telling me about it, I asked if Sadie had gone down the tubes. Except for some exploratory ventures, mainly she went on the slide last time. Well, that and she loved the suspended bridge on the bigger kid equipment.
Deb thought for a second and said, perhaps a little uncertainly, "one."
Clear as could be, Sadie followed that with "One. Yeah."
Little twerp. She's totally toying with us in the talking department.
Well, perhaps not intentionally. It's as if the brainpower and attention go for processing everything she sees and hears, and learning the language perfectly, but none goes for using the language she's learned, rather than her own language or symbolism, except when it happens to slip out or become a word of choice. Like ball or key.
She'll even use a word a lot, then stop using it for weeks or months, then suddenly use it again. That includes the word she invented for candy: gee (with a hard G sound).
It's funny, we're probably supposed to be worried, in the age of modern parenting, but we're not at all. A kid as bright as Sadie, who when she does talk has clarity and grammar beyond her age, will be just fine.
In the meantime, some of the things she comes out with just floor us.
On another note, Deb has Valerie at her six month checkup today. I can't wait to find out her specs and what the doctor thinks of her antics. What I really can't wait for is Sadie's 2 year appointment at the beginning of October. She has grown so tall!

Wednesday, August 30, 2006
Tired.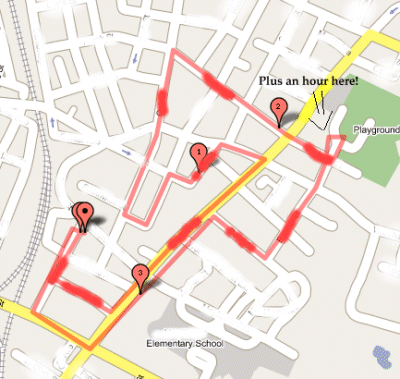 We went for a walk today.
I was hoping for just a walk, but it wasn't long before I realized that the path to a happy two-year-old ran through the playground. We went, we played, we ambled home while the baby slept. 2 and a half hours and 3 and a half miles later, the little darlings finally decided I was allowed to sit down. Outside. While they played in the sandbox for a bit longer.
It was a damned beautiful day. I don't know what in hell we'll do when winter gets here. Maybe Sadie will still be cooking obsessively by then…
BTW, this Gmaps Pedometer thingy? Pretty cool.